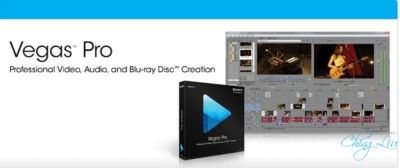 Sony Vegas Pro 12 Build 394 /64 bit + patch | 219 MB
برنامج سوني لتحرير ومونتاج الفيديو والأفلام واضافة المؤثرات عليها ومميزات عديدة + الباتش

Vegas™ Pro 12 is an integrated, forward-thinking production environment designed for a new generation of creative professionals. Combining a familiar track-based timeline with hundreds of thoughtful workflow innovations, Vegas Pro 12 is a refreshing, modern approach to post-production. Supporting more formats, more workflows, and more creative control than ever before, Vegas Pro 12 makes it easy to deliver your message and express your artistic vision.
Innovative editing tools
Edit SD, HD, 2K and 4K material in 2D or stereoscopic 3D, with drag-and-drop functionality or traditional 3-point and 4-point editing modes. The Vegas Pro 12 interface provides an impressive array innovative tools and thoughtful touches, with a fully customizable workspace for accomplishing a wide range of production tasks. Nest Vegas Pro projects within the timeline, customize and save keyboard commands, and use application scripting to automate repetitive tasks. The new Expanded Edit Mode temporarily splits the track at the edit point and enables you to dynamically add or remove frames from either side of the edit point while the media is playing, creating a highly precise, interactive editing experience.
Powerful effect and compositing engine
Combine up to 32 high-quality, keyframeable effects per Effects Chain and apply them at the Event, Track, Media, or Project level. Vegas Pro 12 uses an advanced plug-in architecture based on the OpenFX standard, for hundreds of optional effects from leading visual effects plug-in VFX developers. Parent-Child tracks and sophisticated 2D and 3D compositing modes provide a powerful, flexible effects environment. Shape Masking tools and FX Masking capabilities are new for Vegas Pro 12, along with the Color Match plug-in, to quickly match the color characteristics from one clip to another.
Project interchange
Import and export a wide range of project files to and from Vegas Pro 12. The built-in software can convert between the native .veg file and AAF, for Avid® ProTools®, XML for Apple® Final Cut Pro® 7, Final Cut Pro X (export only) and DaVinci Resolve 8, and .prproj for Adobe® Premiere® Pro CS6 and After Effects® CS6.
Titler Pro 1.0 from NewBlueFX
Create high-quality titles with Titler Pro 1.0, a full-featured titling application from NewBlueFX. Titler Pro enables users to add animations, professional-style templates, and effects to their title sequences. Work in real-time with GPU-accelerated effects and transitions, and easily move text on the X, Y, and Z axes within the Vegas Pro 12 workspace. With 2D and 3D capabilities, Titler Pro 1.0 is the perfect addition to the stereoscopic 3D toolset.
Designed for performance
64-bit operating systems are the best choice for high-end performance. By focusing exclusively on 64-bit operating systems like Windows Vista 64-bit and Windows 7 64-bit, Vegas Pro 12 overcomes many of the limitations of legacy 32-bit software/hardware architecture, enabling users to enjoy superior performance and improved stability for memory-intensive projects and formats.
Working with OpenCL™ supported devices from AMD and NVIDIA, Vegas Pro 12 leverages GPU acceleration for video FX, transitions, compositing, pan/crop, track motion and encoding, providing a significantly faster workflow. GPU acceleration streamlines the video editing experience in Vegas Pro 12 by providing playback performance gains and faster rendering times, ideal for industry professionals who work on tight deadlines where every second counts.
Stereoscopic 3D editing
Create breathtaking stereoscopic 3D projects with the same ease and agility as the Vegas Pro 2D workflow. Vegas Pro 12 provides the ability to easily import, adjust, edit, preview, and output stereoscopic 3D media — all using industry-standard professional delivery formats including single or dual files with side-by-side, top/bottom, or line-alternate encoding. Anaglyphic monitoring and output are also supported. Stereoscopic Auto-Pairing allows bulk pairing of stereoscopic 3D subclips on the timeline, with the ability to automatically pair stereoscopic 3D media created with the Sony PMW-TD300 or a pair of PMW-F3 cameras using the 3D Link feature.
Superior audio control
Access unlimited audio tracks, 24-bit/192 kHz audio, punch-in recording, 5.1 surround mixing, effects automation, and time compress/expand, while applying customizable, real-time audio effects like EQ, Reverb, Delay, and more. Expand your audio processing and mixing options with supported third-party DirectX® and VST audio plug-ins. Vegas Pro 12 includes support for new 64-bit versions of Sony's Noise Reduction 2.0, Wave Hammer, Acoustic Mirror, and more. Use the Mixing Console for precise audio control, with sample-based accuracy.
Broad format support
Vegas Pro pioneered the concept of format-native editing, and the latest version continues that legacy by supporting today's most popular camcorder formats including XDCAM™, NXCAM, AVCHD, HDCAM SR™, DSLR h.264 QuickTime® and RED®. New for version 12 is support for Panasonic P2 DVCPRO and AVC-Intra media. Projects can now be encoded to HDCAM SR MXF files, for pristine quality edit masters.
Powerful Blu-ray Disc™ authoring
Burn movies to Blu-ray Disc directly from the Vegas Pro 12 timeline for high-definition delivery. Use DVD Architect Pro software (included with the Vegas Pro 12 collection) to author DVD or Blu-ray Disc projects with subtitles, multiple languages, and numerous playback menus. Preview and test your work in real time. Import layered Photoshop® .PSD files for buttons and other graphic elements. The MainConcept AVC encoder now supports variable bit rates up to 40 Mbps and average bit rate of 25 Mbps, for better HD quality than ever before.
Notable fixes/changes in version 12.0 (Build 394)File IO
* Fixed a crash importing variable frame rate H.264 MP4 clips from After Effects (CS6).
* Fixed a crash that could occur reading certain HDCAM SR files.
* Fixed an issue that could cause artifacts on last frame of certain MVC 3D files.
* Fixed an issue that could cause silent audio from Panasonic P2 files.
* Fixed the ability to render certain custom sample rate / bitrate combinations in Sony AVC/MVC encoder.
* Fixed empty Profile custom template setting for certain Blu-ray Disc templates in MainConcept AVC/AAC.
* Fixed an issue that could cause video from the Sony Ion phone to incorrectly have a frame rate of 120 fps.
* Fixed a gap in the audio that could occur when looping an event with MVC media or playing it in a loop.
Workflow
* Added the ability to burn a 3D Blu-ray Disc from the timeline.
* If you have FXhome HitFilm 2 Ultimate installed, you can use HitFilm projects on the Vegas Pro timeline and add HitFilm effects to your events. For more information about the Vegas Pro Suite, which includes Vegas Pro and HitFilm 2 Ultimate.
* Added the ability to capture and print to tape using 24-bit audio over SDI.
* Create Video Proxy now works will still image sequences.
* Trim Start and Trim End now preserve stand-alone event fades.
* Double-clicking a .veg project file from the Explorer now opens the project (as it did in previous versions; instead of adding it as media).
* Fixed a crash that could happen if an invalid path is pasted into the Render As dialog.
* Fixed a crash that could occur when recalling a preset for Color Match.
* Fixed the Copy Snapshot to Clipboard and Copy Snapshot to File... Trimmer shortcut menu commands and the OpenFX Use Trimmer
* Image button to work when the Trimmer is floating (not docked).
* Vegas Pro no longer prompts to match project to first media if they already match.
* Fixed an issue that could cause editing OpenFX parameters for an event duplicated from another to affect the wrong event.
* Fixed an issue that could prevent the last-used Pan/Crop preset name from being displayed.
* Fixed an issue that could cause the project timeline ruler offset to be used in the Pan/Crop timeline (when it should not be).
* Fixed an issue with showing the keyboard focus state in the OpenFX parameter Animate button.
* Fixed an issue with Expanded Edit Mode showing an additional copy of an untrimmed event's unused but available frames (as if it had been looped).
* Fixed a hang that could occur using Tools > Multicamera > Lay Out Tracks Using Media Timecode or Lay Out Tracks Using Media Date/Time Stamp.
* Fixed an issue that could cause the audio track in the Trimmer to be hidden if the Trimmer was hidden and then revealed again.
* Fixed issue showing new accelerators in menus after using Options > Customize Keyboard.
* Added OpenFX progress (such as used for Stabilize analysis) to taskbar icon.
* Fixed an issue where Ctrl+Left Arrow and Ctrl+Right Arrow could be off by a frame in the Pan/Crop keyframe timeline.
* Fixed an issue that could cause keyframes to be created when tabbing through OpenFX parameters but not changing their values.
* Fixed an issue with combining OpenFX keyframes (by dragging one over another) that prevented deletion of one of the keyframes.
* Made double-clicking to add an OpenFX keyframe use snapping.
* Fixed an issue with OpenFX on-screen position interacts not creating keyframes.
* Add Keyframe now adds to all keyframe rows if no row is selected or keyframe rows are hidden.
* Fixed issues with Undo/Redo not being active or not working with certain OpenFX plug-ins.
* Fixed issues with navigation in the Explorer window using address bar and back/forward buttons.
* Fixed numerous Explorer issues including right-click item selection, tree view tracking right pane navigation, sort order of numbered files, location changes after recalling a window layout or using Expanded Edit mode and Edit in Vegas shortcut menu command.
* Fixed letterboxing that could occur when creating a video proxy for standard-definition video.
* Fixed an issue that could cause the first keyframe to disappear when moving an event with the Track FX window open.
Project Interchange
* Fixed markers exporting to ProTools/Media Composer format.
* Fixed 5.1 surround audio projects exporting to AAF.
* Improved issue logging for After Effects exports.
* Add stereo support for .M2T files in the Premiere Pro and After Effects export.
* Add Track Group support to the Premiere Pro and After Effects export.
Video
* Made GPU-accelerated borders appear like CPU-rendered borders for Barn Door, Push, Slide, Spiral, Split, Squeeze, Swap, and Zoom transitions.
* Improved GPU performance for many of the effects, transitions, generators, and compositors.
* Fixed an issue with Track FX keyframes applying incorrectly when a timeline ruler offset was used.
* Fixed an issue that could cause image stretching for certain PNG files when used with Pan/Crop.
Vegas Pro 12 system requirements
* Microsoft® Windows Vista® 64-bit SP2, or Windows 7 64-bit
* 2 GHz processor (multicore or multiprocessor CPU recommended for HD or stereoscopic 3D)
* 500 MB hard-disk space for program installation
* 4 GB RAM (8 GB recommended)
* OHCI-compatible IEEE-1394DV card (for DV and HDV capture and print-to-tape)
* USB 2.0 connection (for importing from AVCHD, XDCAM EX, NXCAM, or DVD camcorders)
* 512 MB GPU memory
* Windows-compatible sound card
* DVD-ROM drive (for installation from a DVD only)
* Supported CD-recordable drive (for CD burning only)
* Supported DVD-R/-RW/+R/+RW (for DVD burning only)
* Supported BD-R/-RE drive (for Blu-ray Disc™ burning only)
* Microsoft .NET Framework 3.51 (included on application disc)
* Apple® QuickTime® 7.1.6 or later for reading and writing QuickTime files
* Internet Connection (for Gracenote MusicID Service)
* GPU-accelerated video processing and rendering require an OpenCL™-supported NVIDIA®, AMD/ATI™, or Intel® GPU with 512MB memory or more.
Languages
: English, German, French, Spanish, Japanese
Homepage
:
http://www.sonycreativesoftware.com/vegaspro