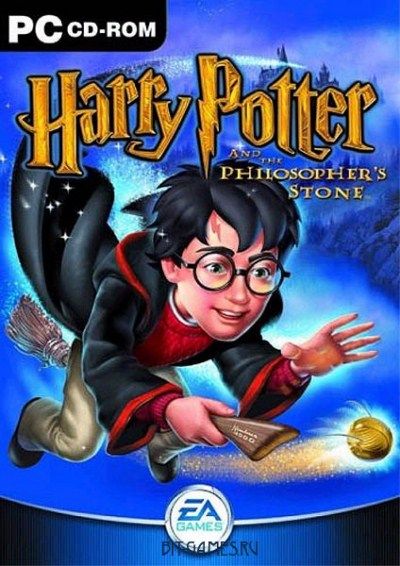 Harry Potter and The Philosopher's Stone (Sorcerer's Stone) (PC/ENG) | 554 MB
English | Platform: PC | Release: November 16, 2011 | Publisher: Electronic Arts | Developer: Know Wonder | 554 MB
Genre: Adventure
Harry Potter and the Philosopher's Stone (known as Harry Potter and the Sorcerer's Stone in the United States) is an Electronic Arts multi-platform action-adventure video game developed by KnowWonder, Warthog, Griptonite, Argonaut, Eurocom and Westlake Interactive. Philosopher's Stone was initially developed for the PlayStation, Microsoft Windows, Game Boy Color, Advance and Mac OS X, and was re-made two years later for the PlayStation 2, Xbox and Nintendo GameCube.
The first version of the game was released on 15 November 2001 in North America, in Australia and Europe on 16 November and in Japan on 1 December 2003. The second version was released in North America on 9 December 2003, in Japan on 11 December and in Australia and Europe on 12 December.
The story follows protagonist Harry Potter, who discovers he is a wizard, and is sent to Hogwarts School of Witchcraft and Wizardry where he makes friends and receives magical training, and along with his friends stop Lord Voldemort from returning to power. The game received mixed reviews. Critics commented on the game's simple game play and its poor graphics (2003 versions) while others said the game's license will be the only thing to draw in fans.
SYSTEM REQUIREMENTS
MINIMUM PC REQUIREMENTS
Windows 95/98/2000/Me/XP
266MHz Intel Pentium II or AMD K6-2 processor
64MB RAM
4X CD-ROM drive
500MB free hard disk space
DirectX 8.0
8MB video card with DirectX 8.0 compatible driver
3D accelerated mode requires: 8MB Direct3D capable video card with DirectX 8.0 compatible driver
DirectX compatible sound card
Keyboard
Mouse
RECOMMENDED PC REQUIREMENTS
400MHz or faster Pentium II or AMD K6-2 processor
128MB or more RAM
8X or faster CD-ROM drive
32MB or greater supported Direct3D capable video card
Supported Chipsets: NVIDIA GeForce2, NVIDIA GeForce 256, NVIDIA Riva TNT2, NVIDIA Riva TNT, 3dfx Voodoo5, ATI Radeon, ATI
Rage 128 Pro, ATI Rage 128, Matrox MGA-G550, Matrox MGA-G450, Matrox MGA-G400, Matrox MGA-G200, PowerVR3 Kyro II, PowerVR3 Kyro, S3 Savage2000
Install Notes
1- Run the file "Autorun.exe"
2- Click on INSTALL
3- Use any of the keys provided (keys are in the file "Serials & Cracks\Keys.txt")
4- Replace the file in the installation directory ["C:\Program Files\EA Games\Harry Potter TM\System" by default] from the file "HP.exe" [the file is in "Serials & Cracks\NO CD CRACK" folder]
5- Run the game & Enjoy. ThAnKs
Screenshots